Quantifying Neuron's carbon emissions
Sustainability has been a guiding principle for Neuron Mobility from the beginning. As we work towards achieving our vision of helping the world build a more prosperous and sustainable future through new ways of moving and connecting, we are committed to ensuring sustainable operations across our entire value chain.
In 2021, we became certified carbon neutral, and in 2022, we pledged to become carbon negative by 2025. This year, we also took ambitious steps to better understand our own carbon footprint and how we can effect a modal shift away from polluting transport methods. 
We are steadfast in our conviction that businesses large and small in all sectors must lead the charge and step up their efforts and resource allocation to combat climate change. With the transport sector producing a sizable 17 per cent of global greenhouse gas emissions, all parties in this space must take responsibility and enact determined measures to reduce the carbon footprint of their business operations in a transparent manner. 
To that end, we are now publishing a full account of our own carbon footprint for the first time. 
Understanding Neuron's Impact
We undertake detailed carbon accounting to understand how much CO2 Neuron emits in order to offer our vehicles and services to cities around the world. This accounting, based on the GHG Protocol of Scope 1, 2 and 3, spans all of our business activities, from our manufacturing, shipping, operations and end-of-life processes all the way to the computers our staff use and the way our team travels to and from work. We take this deep approach to our emissions accounting to ensure that we best understand our footprint and so that we can proudly justify our carbon neutrality. 
As one can imagine, with 25 offices and warehouses and more than 12,000 vehicles on the street, this data collection and emissions accounting is no small feat. We work with our partners at Carbon Reduction Institute (CRI) to delve into the utility bills across all our sites, the fuel spent for our operational vehicles, our supply records and depreciation schedules, waste surveys and input from each staff on business travel and commute habits. We use our cradle-to-gate Life Cycle Assessments undertaken for each vehicle and our real operational data to understand our annual emissions, meaning our carbon accounting is very precise compared to methods that estimate based on assumed operational footprints.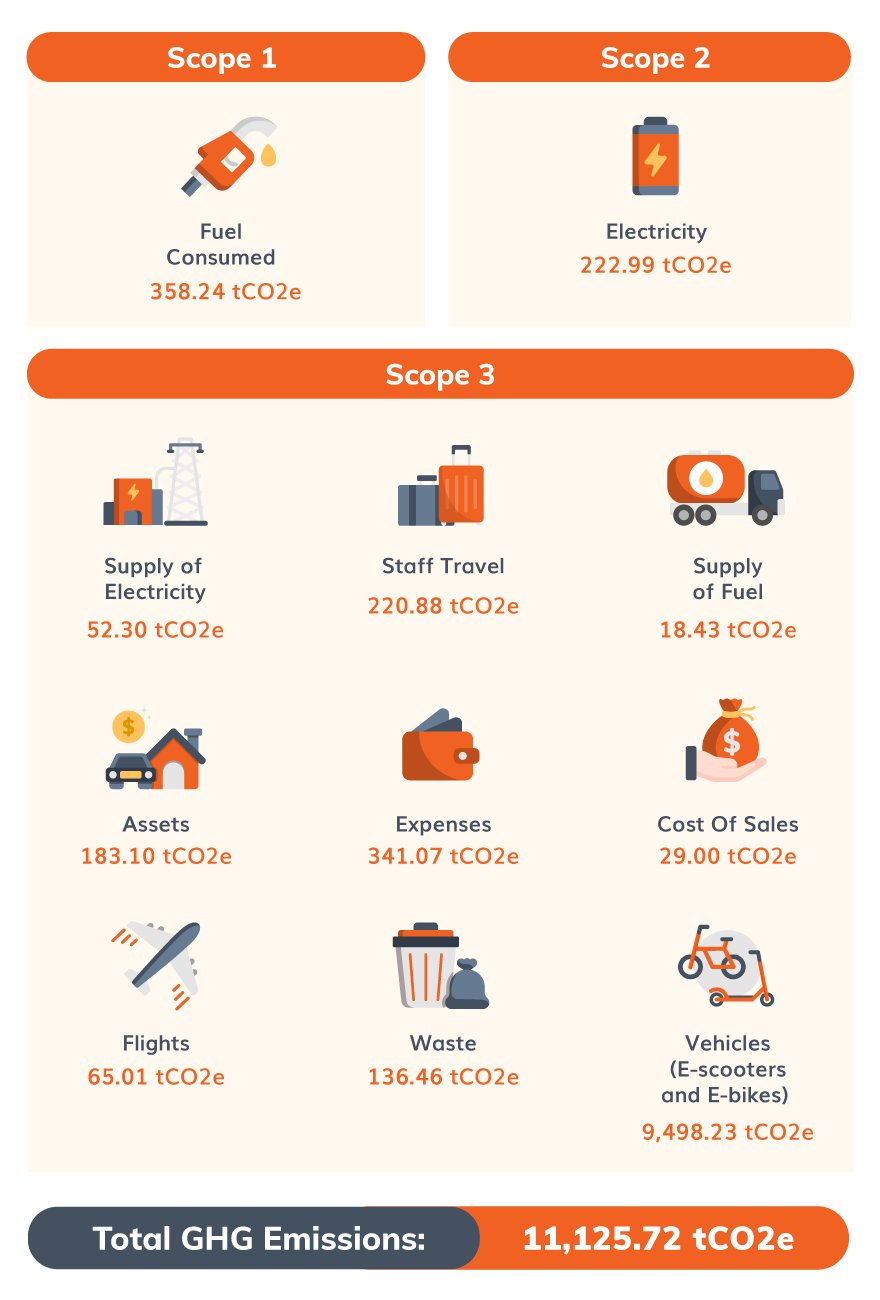 We have been certified Carbon Neutral since 2021 through CRI's NoCO2 Program. To achieve this status and become carbon neutral we have committed to undertake the following process:
Commission a NoCO2 audit from CRI to measure our carbon footprint. CRI's NoCO2 audit follows the standards outlined by the World Business Council for Sustainable Development's Greenhouse Gas Protocol Corporate Accounting and Reporting Standard (1), in addition to the international standard ISO 14064.1 (2) and ISO 14044 for the life cycle component of the assessment. CRI's assessment relied upon service-specific data from Neuron Mobility and for their operations, as well as published sources of relevant data and emissions factors.

Offset our unavoidable emissions through the purchase of a range of units including projects approved either under the Verified Carbon Standard (VCS)or Gold Standard (GS), and

Ongoing auditing of our emissions.
Reducing this footprint going forward
The above emissions reporting represents the baseline for us, we are continuously working to lower our carbon footprint across our business, and have taken decisive measures to be able to reach Carbon Negative status by 2025. This includes looking closely at our Life Cycle Assessments and our emissions accounting and addressing areas where we see greater emissions associated, including: 
Address our manufacturing footprint and use recycled materials within our next generation e-scooters 

Continue improving our vehicle lifespan through technological advancements

Hold our suppliers to the same high standards we hold ourselves through a Supplier Code of Conduct 

Power our vehicles and operations with green energy across all of our markets 

Deploy fleets with 100% swappable batteries 

Implement the use of electric vans and e-cargo bikes across our operations 

Recycle or reuse our vehicles, batteries and replacement parts 

Develop innovative second-life programs for our batteries 

Promote sustainable habits in our business and communities
While we are proud to be certified Carbon Neutral and proud to show our commitment to understanding our emissions through this in-depth accounting, we know this is just the beginning. We will continue to measure, engage, evaluate and reduce our carbon footprint, especially across our Scope 3 emissions. We know Scope 3 emissions will remain a challenge for not just our industry but for transport and business globally. We hope that by doing our part we can inspire friendly competition among our peers in the name of getting sustainable transport right.