We partner with cities to connect people and places in a safe, convenient and fun way.

We are driven to help the world build a more prosperous and sustainable future through new ways of moving and connecting.
Founded in 2016, Neuron is the fastest growing shared electric scooter operator and micromobility technology developer in Asia Pacific. We currently operate e-scooter services in Brisbane, Adelaide, Port Adelaide Enfield, West Torrens, Charles Sturt, Canberra, Darwin, Townsville and Auckland.
Our e-scooters are designed in-house and manufactured to a commercial standard to perform better, and last much longer than off-the-shelf models. Designing our own e-scooters has allowed us to be an industry leader particularly when it comes to safety. For example we introduced the world's first Helmet Lock, which secures a safety helmet to the e-scooters between trips. 
As well as the many safety-related aspects to the design, like a wider deck, bigger wheels, dual brakes and our app-controlled Helmet Lock, our e-scooters also have features that make operations more efficient. For example they all have detachable batteries which means that recharging costs are significantly lower.
We maintain a proprietary supply chain for our commercial-grade e-scooters, and we use real-time analytics to make continual improvements.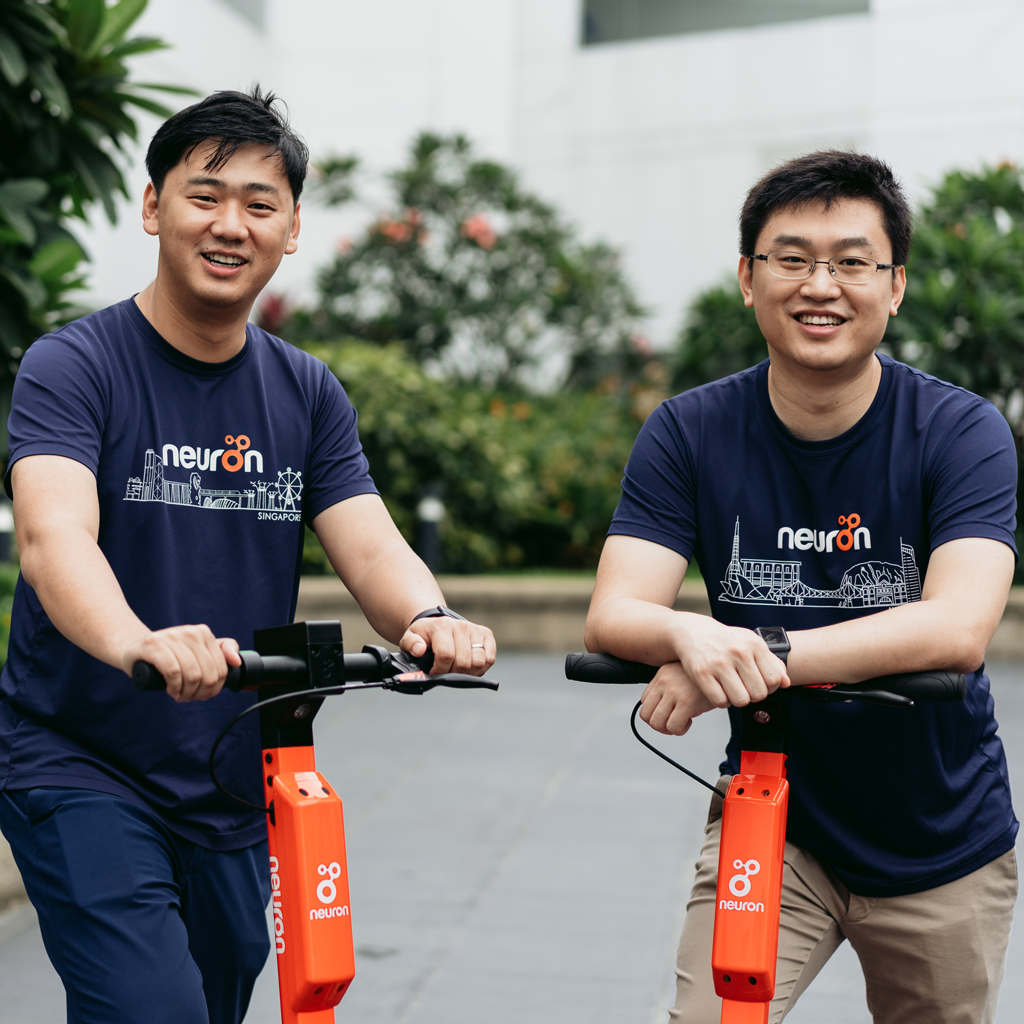 Zachary Wang

Co-Founder and CEO
Zach is a serial entrepreneur who is committed to using sustainable technology to improve urban living. As the Co-founder and Chief Executive Officer of Neuron Mobility, he aims to transform urban areas by bringing sustainable personal mobility to cities around the world.
Zach leads the company with a passion and enthusiasm for building smart cities. He contributes to this initiative through the company's use of data sharing and real-time analytics to bring convenience to the masses.
He is also the founder of Rezeca Renewables – the largest residential solar provider in Singapore, with a strong presence in Thailand for commercial and industrial applications. Zach has also spent several years researching Electric Vehicles and built hydrogen fuel cell electric cars since 2007.
Harry Yu

Co-Founder and CTO
Dr. Harry Yu is a data scientist who specialises in machine learning and artificial intelligence. As the co-founder and Chief Technology Officer at Neuron Mobility, Harry develops the key technologies that power the company's e-scooter sharing platform.
His pioneering research work and algorithms are used in real-time data analytics and scalable solutions for the rapidly expanding platform. He is focused on building Neuron as a data-driven mobility company that works with local stakeholders to build smart cities of the future.
His work involved improving the computational efficiency for an embedded inverse dynamic problem for the healthcare industry, developing predictive attrition models for the banking industry, building a geospatial simulation model for demand prediction for the transportation industry and creating a Predictive Maintenance System (PMS) based on machine sensor for the airline and semiconductor industries.