The all-new N4: Neuron unveils the most rider-centric, sustainable and toughest e-scooter yet!
Designed in-house to deliver unparalleled comfort and stability, the N4 promises a smoother, faster and more predictable acceleration, and best-in-class hill climbing ability
Ergonomically designed and precisely tuned to win riders
The N4 has been precisely tuned to deliver a more linear acceleration profile which allows the e-scooter to reach its top speed faster in a smoother, more predictable manner, giving the rider added confidence. It has been engineered to deliver best-in-class hill climbing performance, dynamically delivering power exactly when it is needed.
When competitor vehicles fail, the N4 can comfortably climb a 17 degree incline carrying a rider of 90kg/198 lbs. Plus we have added an upgraded front suspension and pneumatic tyres to significantly reduce road vibration and enhance comfort and traction. 
The N4 carries over well-known safety features from our N3 model including the world's first App-controlled Helmet Lock, launched in 2020, which integrates a helmet to the e-scooter and our "talking e-scooter" voice guidance system which was introduced in 2018 to inform and educate riders.
Tougher and more durable, with dual-battery system for better unit economics
Having undergone rigorous crash and stress testing, the N4 has been designed to be extremely durable and economical to operate. The deck and frame of the N4 is made from a single die-cast piece of aluminium and is fitted with rubber bumper strips along each side to protect it from wear and tear.
We introduced the world's first swappable batteries for rental e-scooters in 2018 and our N4 e-scooter goes one step further with a new sequential, dual-battery system which can be deployed with one or two batteries depending on the demand in the city or to manage peak periods. Having two batteries reduces charging time by around 50%, compared to using a single battery of the same combined capacity, significantly boosting operational efficiency. 
Premium, white-label model offered to operators and fleet owners
We are excited to announce that we will offer a premium, white-label N4 model to operators and fleet owners. The N4 has been designed and built to meet the demands of modern cities with regulated e-scooter programmes, and for operators to win competitive city tenders. It is fully certified and compliant with major markets in Europe, North America and Asia Pacific.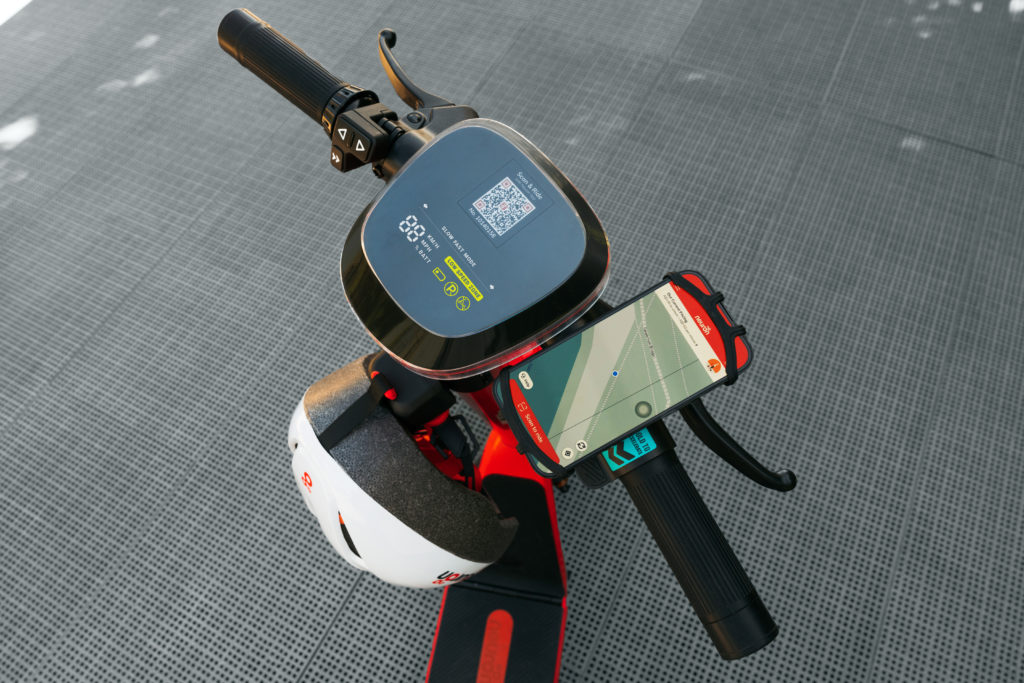 In an industry first, the frame and body of the N4 is constructed using certified 80% recycled aluminium, which significantly reduces the manufacturing footprint of the vehicle.

The N4 comes with a proprietary new IoT box which is future-proofed to allow technology to be added over time. It has a range of high-tech sensors to precisely locate the e-scooter and control where it can be ridden and parked and to correct irresponsible riding in real-time. Unlike many competitor vehicles the GPS antenna is top-mounted and sky-facing, it sits within the new LED dashboard to achieve superior satellite reception.