Neuron launches Australia Prosperity Report showing how e-scooters boost local economies!
New research shows Neuron e-scooters in Australia contribute AUD $448 million a year to local businesses
E-scooters are not only a great way to get around town, but also a strong driver of prosperity for local economies. We're proud to launch the Australian version of our new Prosperity Report for 2022 titled Shared Rides, Shared Wealth to demonstrate the positive impact we're making on local economies. We are also launching versions of the report specific to the UK and Canada.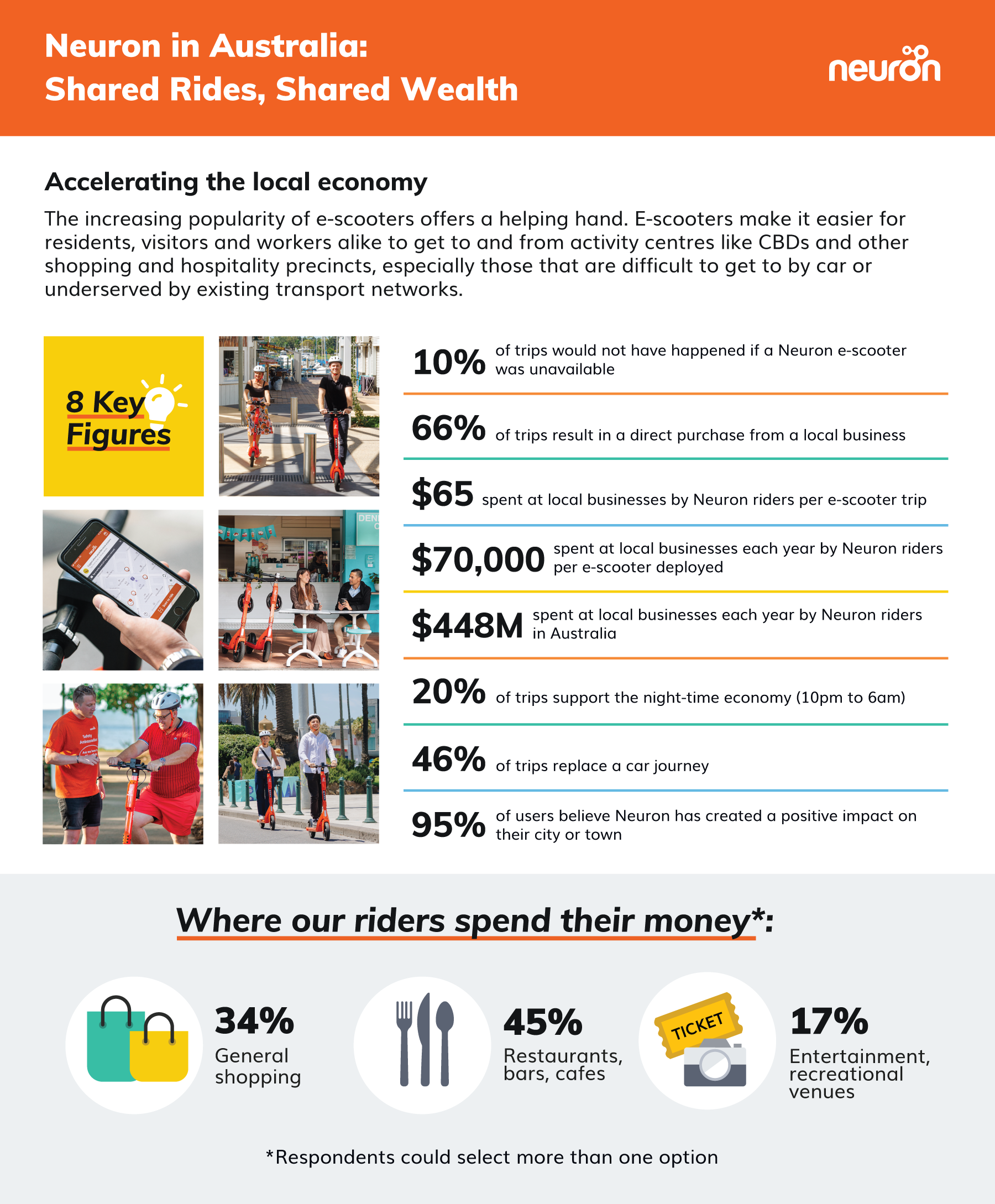 Each year, riders spend nearly AUD $448 million at local businesses during their e-scooter trips in Australia.
That's $70,000 a year per e-scooter deployed, at an average of $65 per trip. Two in every three rides result in a purchase at a local business, and half of our riders are spending more than $20 every time they hop on an e-scooter, bringing valuable sales to shopping, dining and entertainment venues.
City centres and hospitality districts, which are notable hot spots for e-scooter rides, are seeing a much-needed boost from customers on e-scooters after a steady decline over the last few years which was only made worse by the COVID-19 pandemic. 
In Melbourne, for instance, more than half of all our e-scooter trips start and end in the Central Business District. E-scooters are also helping people get to and from places that were previously accessed mostly by car, like the Darwin Waterfront and Mindil Beach Markets as well as the suburbs in smaller cities like Rockhampton.
Our findings were also supported by economist Nick Behrens of Queensland Economic Advocacy Solutions (QEAS), who independently analysed the economic and environmental contribution of our operations in Brisbane. The QEAS report concluded that Neuron e-scooters contributed $116.6 million in direct, indirect and enabled economic activity in the city during the 2021-2022 financial year.
Besides boosting spending, e-scooters also bring other benefits. For one thing, they offer night-time economy workers like doctors and nurses a reliable and convenient alternative to cars and taxis, especially in the wee hours when public transportation services are not readily available. They also help minimise disruption to the community during large-scale events like the Australian Grand Prix and the AFL Grand Final by absorbing some of the extra demand for transportation.