Best buys from Cyberjaya's Family Mart
Top 10 items to check out for your next late-night supper
FamilyMart is Japan's second largest convenience store chain, with over 20,000 stores across Asia selling their world-famous ready-to-eat meals. They opened their doors in Malaysia in November 2016 and have been an absolute hit – expanding over 100 stores nationwide since then.

In July 2018, they launched their Cyberjaya outlet at DPULZE Shopping Centre complete with all their familiar products. From their famous Odens to their ice cool frozen Frappés, here's a list of items you must try at FamilyMart Cyberjaya!      
Oden


Oden, a popular Japanese one-pot dish, is the perfect snack to warm your bones on a cool day. Traditionally, it consists of ingredients such as boiled eggs and fish cakes served in a fragrant dashi broth. Its simple nature yet bold flavours make Oden a hit with almost anyone who has had the privilege of trying it. 

Oden set – Udon bowl with Korean Odeng Fish Cake and Ajitsuke Tamago (RM8.60)

Oden Menu at Family Mart

At FamilyMart Cyberjaya, you can choose your starter bowl (from RM3) with the traditional soy-flavoured dashi or go for something a little more fiery, with their Tom Yam broth – a local favourite. Couple this with any of their plethora of ingredients – from their ajitsuke tamago (soft-boiled egg) to their fish cakes and chicken balls – and there you have yourself a delectable bowl of Oden!


Onigiri


If you are craving a quick snack to fill you up, look no further than FamilyMart's selection of mouth-watering onigiris. This traditional Japanese stuffed rice ball is known for how convenient it is – and not to mention how delicious!

You can choose between the tuna mayo, chicken and salmon versions of this classic dish, or go for their monthly limited-edition local flavours such as the otak-otak!

Otak-Otak Onigiri (RM4.50)

Dessert Sandwich
Yes – dessert sandwiches are a thing! These scrumptious sandwiches, or sandos as they are known, are the perfect sweet treat to tantalise your taste buds. With fresh fruit and smooth cream sandwiched between soft shokupan bread, this popular Japanese delight will definitely leave you wanting more.

Dessert Sandwich (RM5.20)

 

Hot Snacks


If you are stopping by FamilyMart, don't forget to try their array of hot snacks. They have a variety of mouth-watering options sure to please everyone – from standard dishes such as karaage chicken, curry puffs and cheese sausages, to more unique items like octopus tofu and vegetarian fish balls. You can even get fried chicken freshly made to order! 


Selection of Hot Snacks, from RM2.90

Bento Meals
Like any good Japanese establishment should, FamilyMart serves up a selection of the popular Nippon staple: bento boxes. They offer customers a variety of these quintessential meal boxes, from teriyaki chicken, to Japanese curry and even soboro (minced chicken) – you will be spoilt for choice!


Ebi Chili Bento (RM10.90)


What's more, if you are a fan of local favours fret not, because FamilyMart offers Malaysian dishes like the nasi lemak and mee siam. All you have to do is grab a box off the shelf, get the FamilyMart staff to heat it up for you and you're good to go!

Soft-serve Ice Cream

After you are done wolfing down FamilyMart's savoury Japanese specialities, cleanse your palette with one of their refreshing ice-cream cones. These soft-serves are among the most popular items at FamilyMart, so be sure not to miss them. Their matcha and French vanilla flavours are available all year round, as well as some seasonal flavours, such as coconut, melon, cheese, sweet potato and more. These creamy treats are certainly indulgent – but they are absolutely delicious!

Mediterranean Sea Salt Sofuto soft serve (RM2.90) Photo by meng888

Frappes
Cool off in the warm Malaysian weather with a refreshing, ice-cold frappé. Hidden gems in the vast FamilyMart stores, these frozen beverages are the perfect pick me up – both for their delightful taste and their novelty.

Strawberry Frappe (RM8.90)

Pick up a frozen frappé base from the freezer – either strawberry or cookie flavoured – and simply add hot milk or coffee at the counter to create your tasty frozen drink: all without a blender!

Coffee


Aside from the frappés, FamilyMart also boasts an array of options for coffee lovers. They have bottled coffee – ranging from home-grown brand

UCC

's cold brew to Nescafé's Smoovlatte range – and even freshly-brewed coffee, using their own

speciality blend of 100% Arabica coffee beans

.


Bottled coffee at at Family Mart




 Flavoured Milk
Another speciality available at FamilyMart Cyberjaya is Flavoured Milk. These Flavoured Milk drinks are produced by Binggrae – the Korean F&B conglomerate known for their range of unique products – and their light, silky-smooth texture makes them a top sell.


Binggrae Flavoured Milk from Korea (RM5.38)


Available in the original Banana flavour as well as Melon and Strawberry, there is no way you will stop at one!

Brown Sugar Milk
Last, but certainly not least, is FamilyMart's newest addition: their Brown Sugar Bubble Milk. For all those brown sugar Boba (pearl) lovers, this is definitely the drink for you. With the fresh creamy milk and brown sugar bubbles imported from Taiwan, this Bubble Milk will give any Boba drink out there a run for its money. Not to mention – it's almost half the price of most brown sugar milk drinks sold here in Malaysia!


Brown Sugar Milk (RM4.90) Photo by Jess0620
Now of course, these are just some of the myriad of items that FamilyMart has to offer; there is so much more to choose from! So, what are you waiting for? Grab any of Neuron's scooters located throughout Cyberjaya, ride on down to FamilyMart at DPULZE Shopping Centre and explore it for yourself today. Have a safe ride!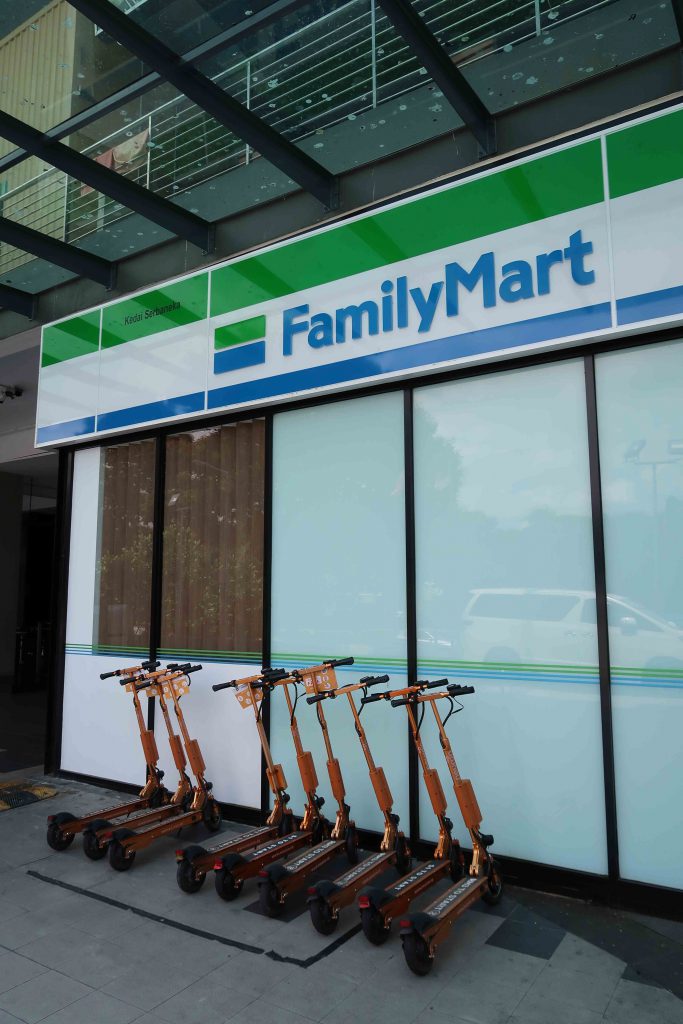 Enjoying your rides so far? Scoot and save more with our Neuron passes!
Try the Neuron app today!