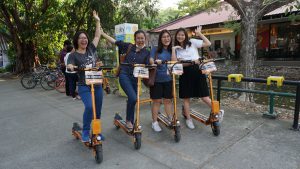 Seen our orange scooters around but not too sure how to start? Fret not, here's a quick guide for you to follow.
Team Android or Team iPhone? Regardless which camp you are in, we got you covered! To begin, simply download the free, Neuron Share app from your app store.
After installing and registering for an account, you can start unlocking the scooter by launching the app and scanning the QR code label on it. If you are not in the vicinity of any scooter, simply use the map on our app to locate one! They are represented by the bright, orange scooter icon.
Once you have unlocked your scooter, you are good to go! It's really easy to ride it, but if it's your first time trying, do look out for some of these basic safety tips. For more information, do refer to our user guide.
Step 4: Return to station and end trip in-app
Once you have completed your journey, you are reminded to return the scooter to a parking station and end your trip in-app! Parking stations are represented by the giant orange 'P' symbol on the map and there are plenty of them within our zone of operations. A convenience fee may be charged according to the respective city regulations if the scooters are not returned to the designated zones.
And you are done! It's that simple.
Try the Neuron app today!